Rio de Janeiro Travel Tips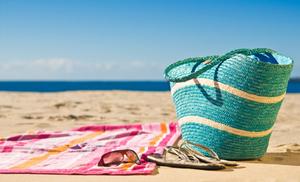 Rio de Janeiro is the most beautiful city in Brazil, surrounded by lovely hills and beaches. Many people travel to Rio de Janeiro for its famous beaches like Copacabana and Ipanema. In addition to this, it offers the most stunning views of the city and Guanabara Bay from the top of the Sugar Loaf Mountain.
Along with countless attractions, the city of Rio is also famous its vibrant nightlife that offers a wide range of bars, pubs, nightclubs, lounges and live music events in the night. Overall, the city is a perfect vacation destination full of timeless attractions, long beaches and the craziest nightlife in the world.
Safety
In this beautiful city, one needs to be concerned about safety, especially while travelling on foot. It is necessary to take precautions while walking in crowded areas, as due to the poverty in the surrounding areas of the city, the crime rate is quite high. It is always good to keep valuable items, passport and additional cash in the hotel safe.
Security Tips
Avoid travelling alone and if possible, take local friends along with you while roaming on the streets, especially at night.
It is advisable to avoid unnecessary flaunting of valuable and expensive items in crowded areas. Do not carry valuable items like cameras, branded watches, credit cards, and try to dress like a local Brazilian.
At night it is not wise to travel in public transportation, a safer option is to call a taxi, and areas like subway stations should be avoided.
Do not leave any luggage unattended in a crowded area and famous tourist areas.
For security reasons, it is good to take out money from ATMs that are placed inside buildings, banks or shopping centres.
Try to keep a distance and be aware of gang warfare, favelas, pickpockets and bag snatchers.
It is always safer to visit city centres, and famous tourist attractions in the daytime and dangerous areas should be avoided at night.
Tipping
Generally, Tipping is not compulsory and also not expected from the local people. Service charges (around 10 %) are added to hotel or restaurant bills at the end. Additional tips can be given just to appreciate excellent service or to round up the bill to a whole number. Also, it is not obligatory to give tips to taxi drivers. However, taxi drivers round up the fare as a tip for their services. Special or radio taxis do not use typical taximeters and always charge more than the original amount.

When to Travel
This city falls under a tropical wet and dry climate, which is usually mild in all seasons. Summer season starts from December and lasts until February when temperatures might rise a little high with low humidity. Rainfall can be expected during the summer due to high temperatures, and sometimes it can last for consecutive days. Therefore, the best time to visit Rio de Janeiro is definitely during the winter season. In winter, usually, the city experiences a cloudy climate with showers but is not so cold even at night. From July to September, daytime is generally quite warm with bright sunlight that suits perfectly for the beach destinations and to explore the beautiful natural sceneries of Rio.

City Transportation
Buses are the cheapest means of transportation in Rio available in both forms, i.e. A.C and non- A. C versions. In the daytime, it is safe to explore famous places via buses that run on major routes but travelling at night is not too safe. Here, local buses are also known as the Frescao that frequently run in peak hours on different major routes of the city. The subway is another good choice for travelling to major city areas where one can even use special subway buses. Local vans are also available in the city.
| | |
| --- | --- |
| Hello | Olá |
| Hi | Oi |
| Good morning | Bom dia |
| Good evening | Boa noite |
| Good night. | Boa noite. |
| Excuse me | Com licença |
| Yes. | Sim |
| No | Não |
| Please. | Por Favor |
| Sorry. | Desculpe. |
| Thank you. | Obrigado. |
| Welcome | Bem-vindo |
| What is your name? | Qual é o seu nome? |
| My name is... | Meu nome é ... |
| Can you help me? | Você pode me ajudar? |
| Can you speak more slowly? | Pode falar mais devagar? |
| Do you speak English? | Você fala Inglês? |
| Does anyone here speak English? | Alguém aqui fala Inglês? |
| How are you? | Como vai você? |
| How much? | Quanto? |
| I'm fine. | Eu estou bem. |
| I don't understand. | Eu não entendo. |
| I am very glad to meet you. | Estou muito feliz em conhecê-lo. |
| | |
| --- | --- |
| Calling Code | 55 |
| City Code | 21 |
| Fire | 193 |
| Ambulance | 192 |
| Police | 190 |
| Hospital de Ipanema | 21 3111-2334 |
| Hospital Copa D'Or | 21 2545-3600 |
Recommended Activities