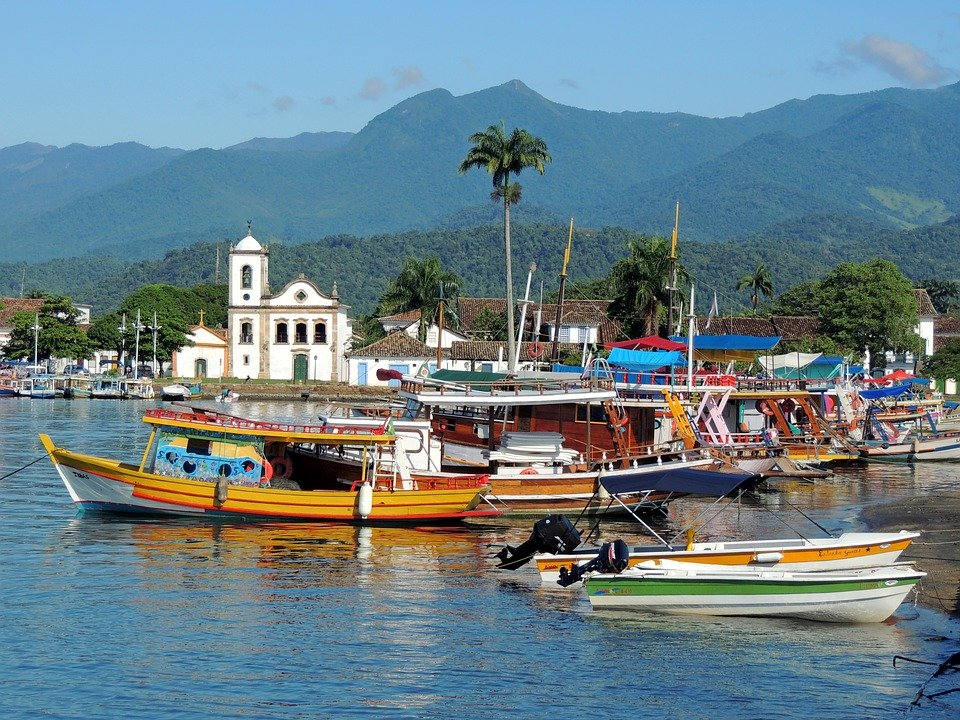 Looking for an adventure? This well-preserved colonial town will make you feel like you've just stepped out of the tropics and into Western Europe. Parati sits on Brazil's south-eastern coast with the Bozaino Mountains on its back.
Located on the Costa Verde (Green Coast), the county is a lush, green corridor that runs along the coastline of Rio de Janeiro. It's known for its emerald-hued waters.

Parati is a popular tourist destination; known for its historic towns, coast, art, cuisine, waterfalls, excitement and tranquillity. Take a boat trip to the Flontialla islands, explore sugar cane plantations and hike through the Atlantica Forest. Welcome to Paradise.

The Historic Town Center
Picturesque Parati is the perfect retreat for family excursions-offering a unique cultural experience of Rio. The Parati Historic Centre is a quaint historic town, with colonial architecture, churches and colourful, well-preserved buildings on its calcada cobbled streets. The Historic Center, considered by UNESCO as "the most harmonious colonial architecture set" was declared a National Patrimony. The streets are protected by chains that prevent cars from passing-preserving the colonial charm and intense cultural and artistic expression flowing through the avenues.

Beach Tours
Be at one with nature. For the most beautiful deserted beaches on Earth, take a boat trip to a selection of the tropical islands. Little boats take tourists to "Ilha Pelada" (Naked Island), a place of great beauty and a famous bar. In the direction of "Angra dos Reis" (North Coast) there are the beautiful beaches of Sao Goncalinho and Prainha. Parati was also the set of Isle Esme (the place of Edward and Bella's honeymoon) in the movie "The Twilight Saga: Breaking Dawn". With clear blue waters, lush golden sands and stars twinkling at night, the beaches of Parati really are a twilight haven.

Atlantic Forest Tours
Parati is located almost entirely in an Atlantic Forest preservation area surrounded by many parks including Serra da Bocaina National Park, Serra do Mar State Park (Sao Paulo) and the Cairuca Environmental Protection Area, where the village of Trinidad is located. This municipality includes an indigenous village and Afro-Brazilian quilombo. Amongst the Atlantic Forest tours, meeting the Gold Path is unmissable. Visiting the beauties of "Serra de Bocauia" (Bocaina's Sierra), with its beautiful waterfalls and trails is a program to be made at any time.

Waterfalls
Some uneven reliefs, a large amount of water and a lot of forests. These are the required ingredients to design beautiful waterfalls, like the ones that exist in Parati. Come and wash the soul- some of them are difficult to reach, but the allure and visual beauty you encounter when you arrive make it worth the effort. The most enchanting waterfalls include "Cachoeira da Grauma" (Grauma Waterfall), "Cachoeira da Pedra Branca" (White Stones waterfall) and "Cachoeura do Irivi". The "Cachoeira da Pedra Branca" has a natural waterslide. Those with car rentals will be at a distinct advantage.

Parati at Night
After all the excitement and adventure, the evenings in Parati are moments to enjoy the Historic Center. Walk calmly through the little streets, listen to live jazz and acoustic guitarists and taste Parati's excellent cuisine in one of the city's top-quality restaurants.

Bloco da Lama ("Mud Block")
If you're planning on heading to Rio for Carnival, Parati is the perfect retreat for detox and body cleansing. Aside from the wide range of health and beauty spas dotted around the city, there is of course- the famous mud block. Every season before Easter, the "Bloco da Lama"-a block formed by almost prehistoric beings, gets out on the stone streets, with Cariocas bathing in mud, bringing joy and repelling Carnival's fluids. Parati with it's well maintained and serene envirounment, is compatible with all tastes and budgets.