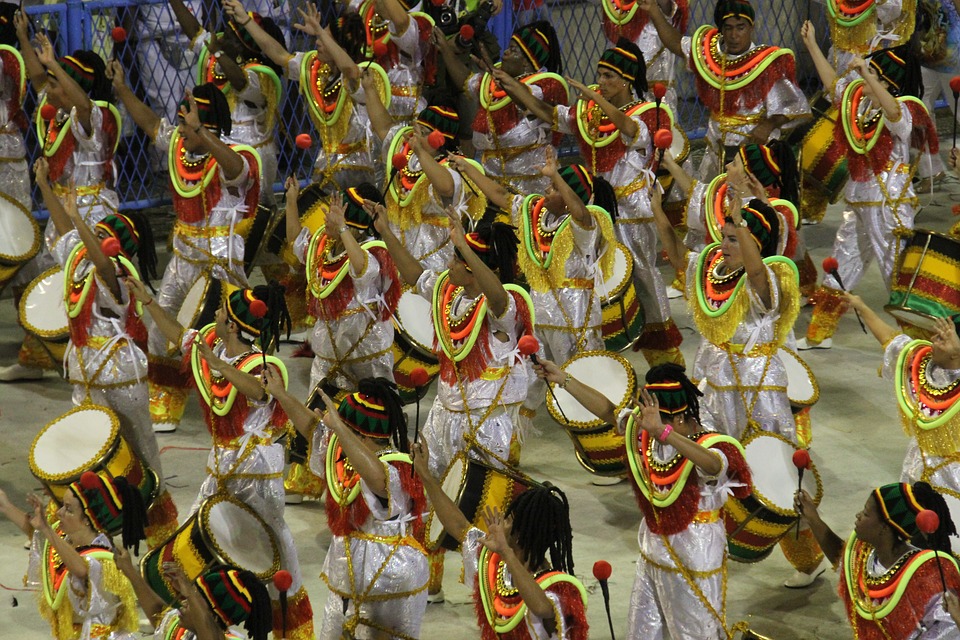 As the sun sets on Rio de Janeiro, you'll start the feel the city groove to samba beats; with its roots in traditional African rhythms, it is the soul of the city's music scene. If you're visiting Rio, make sure you keep a night reserved for some samba dancing. Samba Dance Clubs are mainly concentrated in and around the Bohemian district of Lapa which is adjacent to Centro, a neighbourhood in Zona Central of Rio, Brazil. 
Once a decaying neighbourhood with a reputation, Lapa is undergoing a cultural renaissance with a growing music scene. Today you'll find a large number of live music venues, restaurants, and bars with new ones opening every year. Samba Dance Halls are usually built within the walls of very old buildings that once were used as warehouses for storing goods shipped in and out of Rio and will have a stage for the musicians with a large dance floor in front of it. In some clubs, such as Carioca da Gema, the dance floor is essentially the entire place. A typical club has a cover charge and generally provide a ticket and/or a drink card for its patrons to mark your orders. Make sure you don't lose it in all that party because you'll have to pay a hefty minimum charge! 
Carioca da Gema
This warm and intimate club is one of the very first to kick off the samba scene in Lapa and plays host to some of the most legendary samba bands in the city. The giant main room unfolds as a dance floor with the band playing at the front. The servers cruise on the floor between dancers with their drinks in trays so the partying doesn't need to stop. 
The relaxed atmosphere is perfect for newbies to samba; try out some moves if you're feeling bold enough or just watch the mesmerizing samba dancers at this lively joint.
Address: Av. Mem de Sá, 79 - Centro, Rio de Janeiro - RJ
Democratic Club 
Famous for its samba, choro, and forró nights, Clube dos Democraticos has a wild and young atmosphere, contrasting its ageing 19th-century mansion with a notably grand marble staircase. The large dance floor attracts some of the best dancers in Rio which are an absolute treat to watch. Although less touristy, locals welcome newcomers to the dance floor; here's your chance to learn some new moves.
Address: R. Riachuelo, 91 - Centro, Rio de Janeiro - RJ
Bar da Lapa
Bar da Lapa is known popularly as the brewery of Antarctica, a popular Brazilian brand of beer and one of the main sponsors of Carnival in Rio. It is a typical Brazilian bar with a quirky twist: a brewery that hosts live samba bands almost every day of the week. Go here to enjoy fresh, extra-chilled Antarctica's and Brazilian snacks. Bar da Lapa draws in large crowds so it's a good idea to arrive early.
Address: Av. Mem de Sá, 69 - Centro, Rio de Janeiro - RJ
Lapa is still a bit of a sketchy area, therefore you should stick to the main thoroughfares where people are usually present on the streets until the wee hours of the morning. If you want a night without hiccups we recommend taking a tour or booking a taxi from your hotel directly to one of the clubs of your choice.