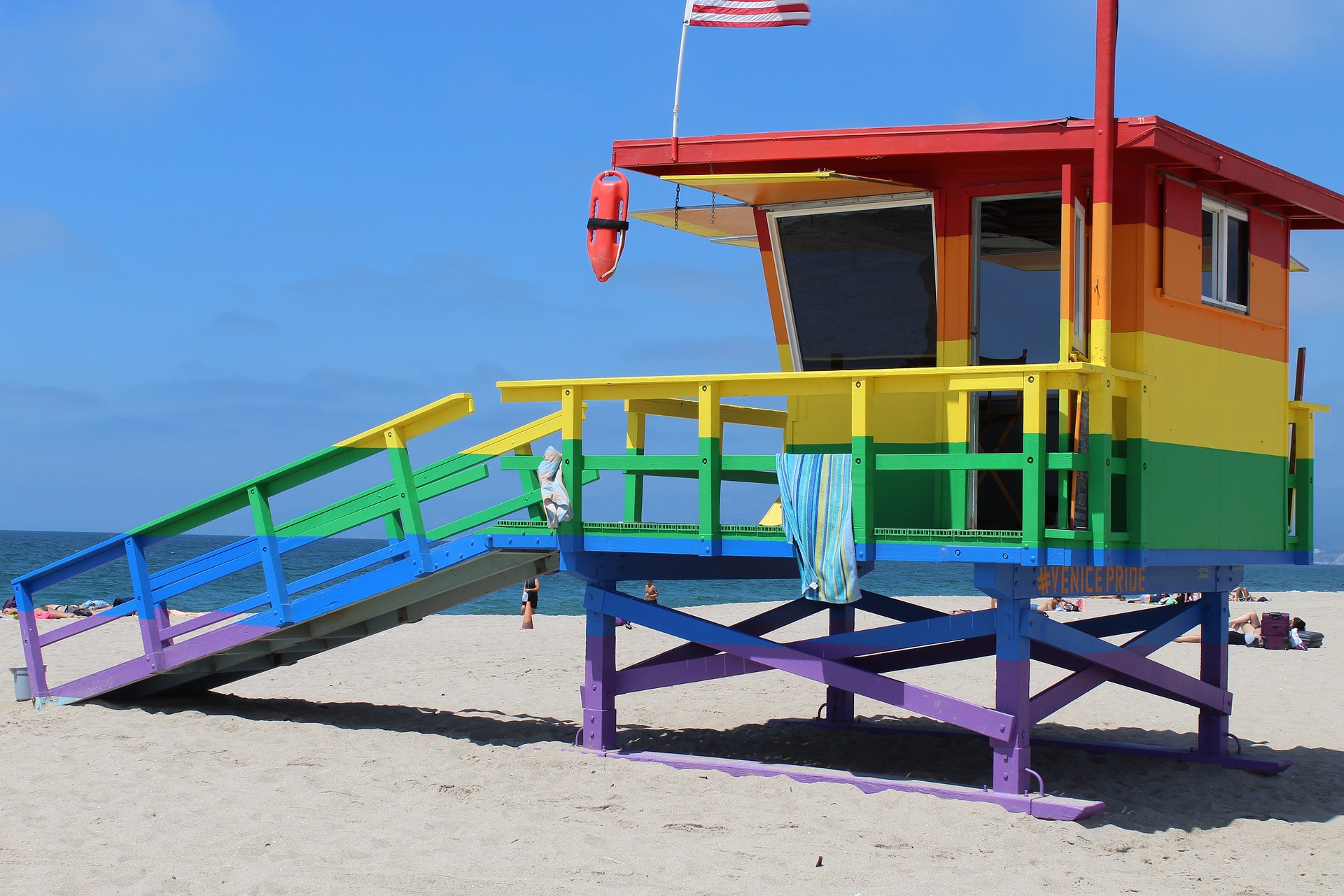 When thinking about Rio de Janeiro, one of the first things that come to mind is the beaches. 
The city has become a gay hub in Brazil, with its beautiful gay-friendly venues as well as annual gay pride events and the legendary carnival. Look out for events and places tagged as 'GLS', which refers to Gay, Lesbian and Sympathizers. Brazil does not have laws against homosexuality, so you can enjoy your vacation in Rio, perhaps take a special LGBT+ friendly tour while you're in the city.
Farme de Amoedo, Ipanema
One of the most popular gay beaches in all of Ipanema, the beach at Farme de Amoedo nicknamed 'Barbie Land' is very easy to spot as many beach vendors keep rainbow flags up. It gets really crowded in summers and especially on the weekends. You can lounge in beach chairs, under umbrellas (which you can rent here) as you sip on some fresh coconut water or perhaps even a delicious caipirinha. The LGBT+ section is marked but if you have trouble finding it, head to the 8th lifeguard tower (Posto), the section is between Posto 8 and 9. Posto 9 is actually where 'The Girl from Ipanema' bossa nova song was penned, so a great place to live your 'tall, tan, young and lovely' fantasy.
Praia de Bolsa
Praia de Bolsa is a gay beach in Copacabana, especially popular with transgender folks. In general, the beach attracts an older crowd; the beach is called 'Bolsa' because it's frequented by bears. It is located directly in front of the Copacabana Palace Hotel, so it's easy to locate. The vibe at the Bolsa is much less "cruisier" than the atmosphere at Farme Gay, so while you're more likely to meet new friends or get picked up at Ipanema, Copacabana is a great place to relax and enjoy yourself.
Praia do Abrico
This beach is racy so please visit it at your discretion, Abricó is a gay-friendly nudist beach which attracts a mix of people. It's located in the Grumari district which is at the far side of Barra da Tijuca. Be careful when taking photos here; selfies are overlooked but make sure you respect the privacy of the beach's patrons. 
Reserva
Part of a preservation area in Barra da Tijuca, this beach has a gay-friendly section and has over the years, become a hotspot for the LGBT+ folks of Rio. With white sands and enclosed by the vegetation from the Atlantic forest, it's stunning, yet a bit further away from the usual tourist areas.