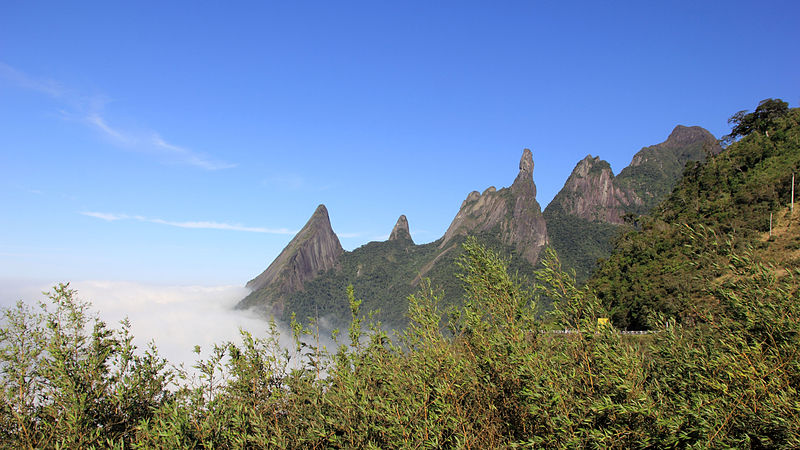 Credit: Halley Pacheco de Oliveira / CC BY-SA 3.0
The  Serra dos Órgãos, popularly known as the 'Organ Range' is a majestic mountain range in the city of Rio de Janeiro.
These mountains cover an astounding area of about 49,480 acres and lie between the Petrópolis and Teresópolis cities. Within these mountains, in 1939, the Serra dos Orgãos National Park was created which is headquartered at Teresópolis.
The mountains were christened so due to their shape that resembles a European organ. This national park is one of the oldest national parks in Brazil and is full of caves, valleys, waterfalls and narrow peaks. The park is an ideal destination to go for a hiking trip, as the area has well-connected trails and covers. The peaks can reach up to 2000 meters in height, so you feel like walking on the clouds, and the sunrise and sunsets here are to die for.

If you are not that interested in trekking you can try the simple walks where the luxuriant greenery will gladden your heart. The forest is filled with bamboo groves, grasslands and innumerable types of animals, reptiles, birds and insects. The forest trails are mostly easy and do not require a guide, but if you want to have a throughout hike of the entire national park than you might need to have one.

Hence, if you are wary of the busy city life, a day picnic or a hearty trek into the mountains will definitely raise your spirit and rejuvenate your mind for the busy days ahead.