Brazil is a country known for many reasons, and one of them is the love of competition. Brazilians love sports, and they also like to stay fit and healthy. As such, Rio de Janeiro is a city that accommodates this need in its own way. Rio de Janeiro is all about the street and beach life, and the sports scene is no different. Many of the sports mentioned here are enjoyed spontaneously outdoors, although indoor competition in poker and martial arts thrive, too. 
Most Popular Sports in Rio de Janeiro
The most popular sport in Rio, along with all of Brazil, is football. It's a national game, and many young people see their heroes rise up from poverty to become international stars and play in competitions like the Champions League. The Brazilian national side has won the World Cup a total of five times, more than any other team. As such, football is enjoyed and loved across society.
One of the best places to play is at one of the beaches around the city, with people often taking their own ball and starting up games. Some of these games can be serious affairs between two organized teams, such as local or school clubs, but often they are casual kickabouts between friends and nearby beach dwellers. Ask if you can join in, and you may get to play in a game. 
Rock climbing is also prolific in Rio de Janeiro, as you will often see people attempting daring climbs in the mountains. If you want to try yourself, then be sure to know your levels and limits. The most famous climb in Rio de Janeiro is the Morro Dois Irmãos (mountain brothers), which have a near-vertical face. It's not for the fainthearted. 
Brazilians also love their mixed martial arts. Again, not recommended without proper training and guidance. Jiu-Jitsu and Capoeira are the most favoured, but you will need to commit yourself fully if you ever want to compete. 
For cycling, the Rodrigo de Freitas Lagoon offers a beautiful backdrop and accessible cycle paths for 7.5km around the lakeside. Plus, the Tim Maia bicycle lane has now opened, which is a 3.5km section linking Leblon beach with Sao Conrado. It's also a good place to take a jog in the city. And if jogging is your thing, then check out the upcoming Rio de Janeiro marathon, too. 
Mental Sports
Traditionally, sports have always been a physical game. Still, in recent times, the concept of what makes a sport has come under question thanks to games like poker and competitions in esports. 
The trend is also apparent across Brazil. According to Abragames, more than 6.1 million Brazilians now participate in esports, with viewing figures also on the rise. That generates an estimated 1.3 billion Brazilian real ($32 million) in the economy. Esports also combines with popular national sports like football, as is the case with the Brazilian Championship of PES League. 
Poker is right on the cusp of this definition due largely in part to the Brazilian Ministry of Sports recognizing poker as a game of skill since 2012, with consideration of the game as a mental sport. Such has garnered an increase in interest for poker strategy articles, which focus on building mental endurance and knowledge, as well as games across Rio de Janeiro at one of the poker clubs and rooms such as the Rio Poker Club. 
Yoga, on the other hand, bridges the gap between physical and mental activity. Although not usually considered a "sport," yoga has physical demands yet also mentally engages and encourages a meditative state. Joatinga Beach, right in the heart of the city, is a beautiful spot to practice, and you can still find secluded areas if you're adventurous enough to explore. 
Water Sports and Beach Sports
Of course, a lot of the sports in Rio de Janeiro take place at the beach, in or out of the water. You won't find poker games here, only surf, paddleboards and ball games. 
Volleyball is the second-most popular sport after football, and the Brazil national teams have won a lot of prizes, especially in 2v2 beach volleyball. You can find volleyball courts dotted around the beaches and seafronts, all you have to do is bring a ball and start playing. There are school clubs and organized competitions, too, if you want to get more involved. 
Surfing is another favourite of the citizens of Rio de Janeiro and is an excellent destination for surfers of all ability levels. Beginners can start at Arpoador, Ipanema for gentle yet great waves and starter schools while the pros and thrill-seekers looking for the bigger waves can head to Praianha or Barra de Tijuca. 
Paddleboarding is also immensely popular. It's more of a relaxed water sport that involves riding the gentle shorelines, but it still requires a decent amount of practice to get the hang of it. There are lots of stand-up paddles (SUP) rentals and lessons in Copacabana and perhaps no better backdrop in the world than the Sugarloaf Mountain. Afterwards, you can head to one of the many lovely cafes in the area for lunch and drinks. 
Extreme Sports in Rio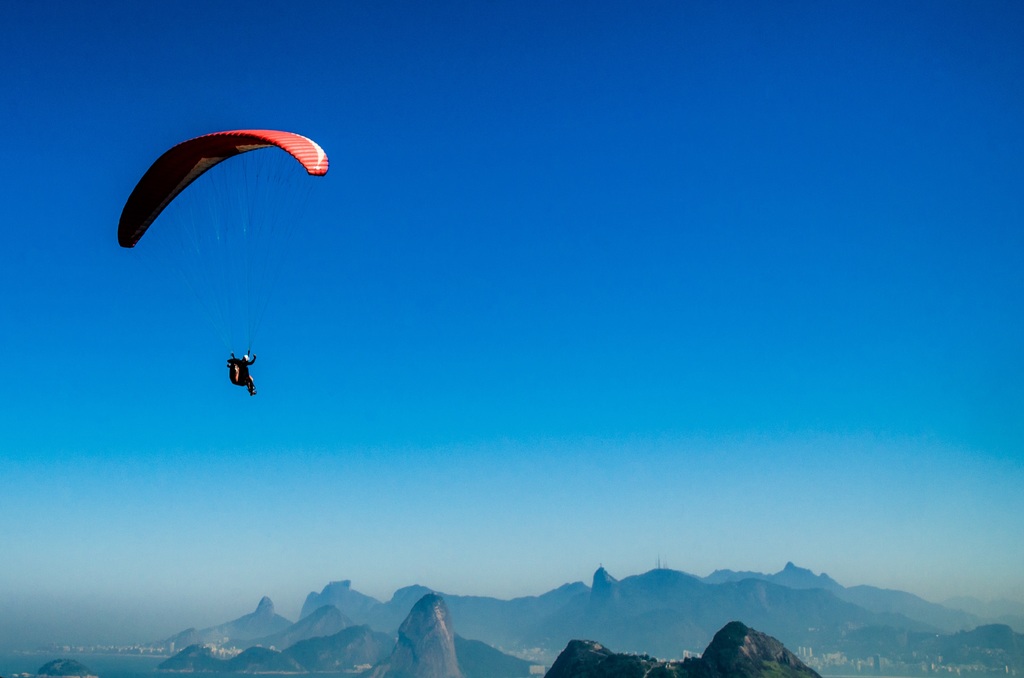 We've already mentioned rock climbing, which is itself one for the adrenaline lover, but with rock climbing, you build up to the level of skill, technicality and height that you want to achieve. Rio de Janeiro is also a hot spot for extreme sports like paragliding. In this case, you don't need training; you can do a one-off jump with an instructor. 
Tijuca National Park is the place to be for extreme sports, and one of the best parts is that you can book your trips from within the city. Here, you can do hang gliding or paragliding over the sites of Rio de Janeiro, take part in a skydive from 12,000ft in the air or rappel down the waterfalls of the park. For the more grounded, hikes through the world's largest urban rain forest offer stunning nature while tours of the cave networks will offer a different glimpse of the national park. 
Rio de Janeiro is a city that loves sports. Whether you enjoy jumping out of planes or prefer a friendly game of football on the beach, it's a place that welcomes activity and relishes in competition.