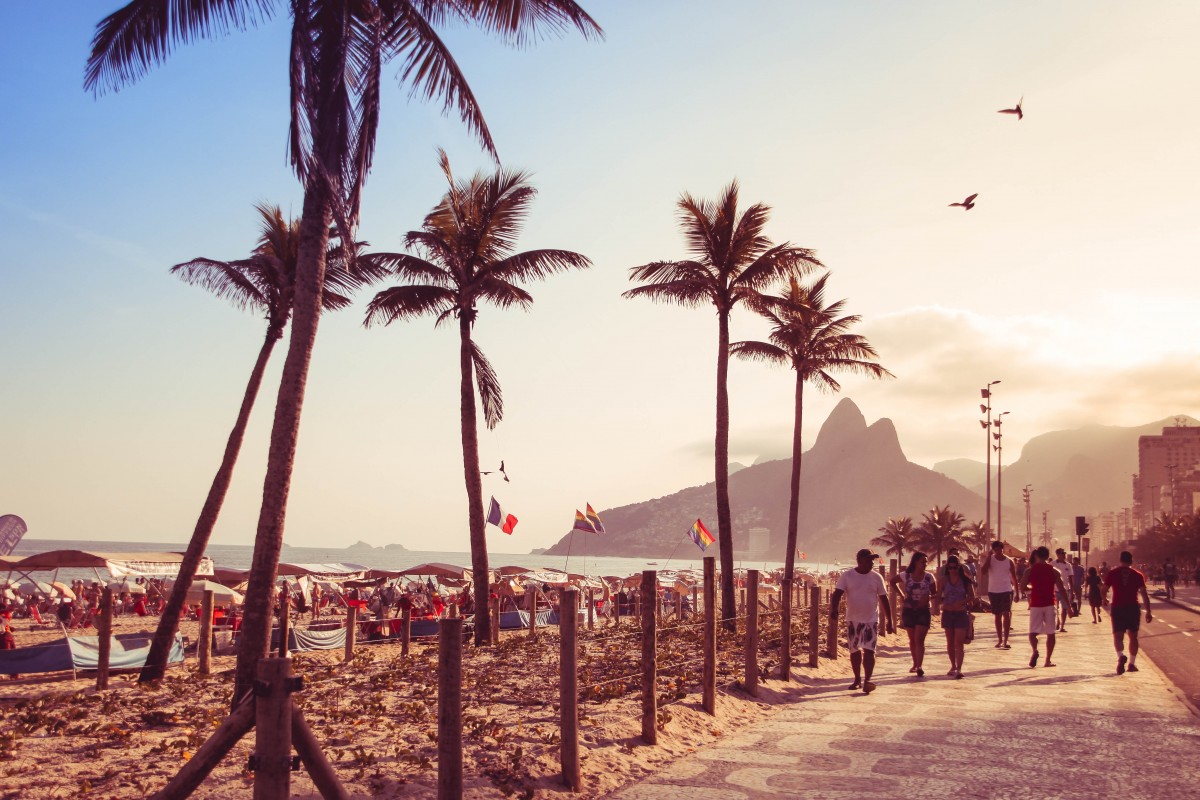 Rio de Janeiro is well-known for its natural marvels, world-renowned tourist attractions, vibrant nightlife, and beaches. Use our brief yet comprehensive Rio de Janeiro travel guide to make the most of your vacation
Every year, visitors from all around the world flock to Rio de Janeiro. It is one of the most popular tourist sites globally, and no wonder why it is one of the most popular, as you'll see Rio de Janeiro is one of the heavens on Earth.
The first thing to know about Rio de Janeiro is that the weather is exactly what most tourists anticipate from Brazil: plenty of sunlight. It feels like summer almost every day!
However, while many people believe that Brazil has a tropical climate throughout, this is not the case. If you look at some of the places in the country, they can get cold. In any case, the weather or climate is always perfect for visiting one of the most cherished places on Earth.
So if you're actually planning a trip to Brazil, maybe for the weekend, make sure to use our brief yet comprehensive travel guide for Rio de Janeiro!
So that we can get most of your planning done and you can focus on the pleasant parts.
So, without further ado, let's get started!
What are the current entry requirements for Rio de Janeiro?
Nowadays entry requirements may be a bit more challenging than previously. You need to have a reliable source of information when planning your trip. This can be done either by using the selected country's government website or checking the up-to-date information via a visa agent.
Visit evisa.express and check the requirements in place when planning a trip to Brazil or any other destination in the world!
Brazil, as many countries, has taken precautions in the form of a health form that needs to be filled out before arrival and presented to the customs officials later on.
Please note! Depending on your nationality, you may also need a visa. Check the entry requirements thoroughly before visiting.
Where should you stay in Rio de Janeiro?
When looking for a place to stay in Rio de Janeiro, It is recommended to stay at a hostel in one of the city's more prominent areas, such as Leblon, Copacabana, or Barra da Tijuca.
These sections of the town feel safe and secure because there is usually someone strolling around or drinking a beer at one of the botecos, which are little low-key pubs with outside seating that are quite popular in Brazil. It seems safer to have a pair of eyes on you all the time, especially at night.
These are recommended, but before you plan a visit to Brazil or seriously consider it, you should thoroughly look out for the places online and their reviews to better understand their place and security.
Things to do and places to see in Rio de Janeiro
So, you've sorted your place to stay, and now you're looking at places you should visit when you're there.
There's no need for you to run wild on the internet looking for different places to see as we've compiled some of the best places to visit:
The Beaches

Yes, what else pops into your mind when you hear of a place called Rio de Janeiro. The beaches here are so lively that you won't be able to understand or feel until you actually get there.

Several beaches in Rio de Janeiro are really famous, and each year thousands of tourists flock there (not these days due to the Covid situation prevailing in the world).

The beaches that you should visit are as follows:

● Copacabana Beach
● Ipanema Beach
● Arpoador Beach
● Prainha Beach
● Grumari Beach

 
Exploring Escadaria Selarón

You can't go to Rio without seeing the bright Escadaria Selarón stairs. These tile-made steps were created by artist Jorge Selaron, who wished to pay respect to the Brazilian people by utilizing the colors of the Brazilian flag.

The steep steps now contain tiles from Brazil and other regions of the world, and the effect is absolutely stunning.

 
Stopping by the Royal Portuguese Reading Room

This breathtakingly beautiful location appears to be straight out of a Harry Potter film. The Royal Portuguese Reading Room (Real Gabinete Português da Leitura) is a gothic-renaissance-style library that was established in 1837 to transmit centuries of Portuguese literature to Brazil's newly formed nation.

The library is near to other attractions in the city center, including a number of excellent places to have a croissant and a cup of coffee. Don't miss out on Rio's Portuguese-inspired sweets, such as Pastel de Belém and Quindim.

 
Checking out the Confeitaria Colombo

Confeitaria Colombo, founded in 1894, is a part of Rio's history. For more than a century, it has been a place to unwind and learn about Rio's and Brazil's gastronomic cultures.

Confeitaria Colombo also hosts weddings and private events. The cuisine isn't inexpensive, but it's worth stopping by for photographs and a quick lunch.

 
Taking photos at Carioca Aqueduct

The Carioca Aqueduct in the city center is steeped in history and a popular picture location.

The aqueduct, also known as Arcos da Lapa, is a short walk from several hip bars and Escadaria Selarón.

If you're lucky, you could come across individuals practising their drums for the carnival.

 
Seeing the Mural Las Etnias

The 30,000-square-feet artwork Las Etnias may be seen in Rio's port neighborhood. The 170m long and 15m high wall shows five faces of indigenous people from throughout the world.

Eduardo Kobra painted the artwork for the Olympic Games in Rio de Janeiro in 2016. Kobra is also the brains behind several murals in So Paulo, NYC (over 18 sites!), and other places.

The five sides of Rio de Janeiro's Olympic Boulevard are comparable to the Olympic rings. The mural is bright and vivid, and it is definitely worth your time. The piece may be found near the Museum of Tomorrow. The surroundings of MoT are also ideal for walking and cycling.

 
Seeing the Sunset from Pedra do Arpoador

This massive rock stands near the extremity of the Copacabana Beach, pointing towards the Atlantic. Hundreds of people come here to watch the sunset. Arrive early!

 
Visiting Parque Lage

This ancient building in the Forest of Christ the Redeemer was constructed by Enrique Lage and his wife, soprano Gabriella Besanzoni, industrialists from the 1920s. The palace was renovated by an Italian architect Mario Vodret, who also painted the interiors.

The surrounding area was turned into a public park in the 1960s, including walking routes through the adjacent subtropical forest. The home currently houses the Parque Lage Visual Arts School as well as a public café.

 
Walking around Mercadão de Madureira

The Mercado de Madureira, Brazil's most popular market, was built in 1929. A fire totally damaged the buildings in 2000, but the market was restored, and the doors reopened one year later.

Today, the market has over 580 storeowners providing a wide range of goods and services. Every day, around 80,000 people, both tourists and residents, visit. Cariocas are delighted to boast that nearly anything can be found in Madureira.

 
Taking a Dip at Banho de Cachoeira Waterfalls

Rio de Janeiro has several waterfalls hidden amid its various nature paths due to its large hillside covered in exotic vegetation.

Cachoeira das Almas and Cachoeira do Horto both provide easy access to pools where you may cool down from the scorching sun. Swimming is also popular on the island of Ilha Grande, which is located off the shore.

 
Going to the Museum of Tomorrow

This enormous white structure that resembles a futuristic spacecraft was designed by Santiago Calatrava and constructed around the time Brazil hosted the World Cup and the Olympics.

The Museum of Tomorrow (Museu do Amanh) transports visitors to the future and describes the current state of the Earth from a social-environmental standpoint.

There will be films, sculptures, paintings, murals, and other captivating art forms covering astronomy, geology, biology, the environment, and science in general. It's an excellent spot to visit with children as well!
Final thoughts
We hope this Rio de Janeiro local guide has helped you organize a fun vacation to the land of Carnaval.
Choose the tourist attractions that best suit your travel needs and spend an incredible weekend in Rio de Janeiro!