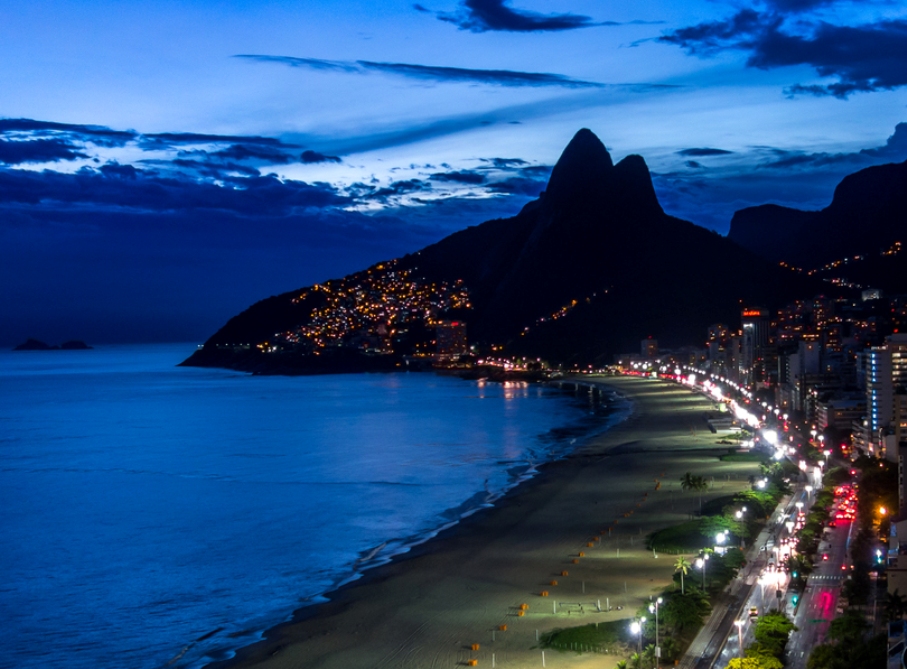 With sun, sand, sea and Christ the Redeemer, Rio de Janeiro has plenty of reasons for people to visit. Its biggest attraction, Carnival, which runs before Lent every year, drew 1.62 million people in 2019.
It's also incredibly beautiful. Towering cliffsides with verdant vegetation, beautiful beaches and people are all part of the charm of Rio.
If you're planning a trip to "cidade maravilhosa" (which translates as marvellous city) you need to make a list. People vary in their interests, but there are some must-see places in Rio to experience while you're there.
Top things to see and do in Rio
When you go to Rio, you must start with the beaches. People will flock to the Copacabana, famous for the song, but there are dozens more.
Beaches
1. Prainha Beach
A half-moon shaped beach that is framed by hills covered in jungle plants, Prainha is a quieter option. This is a great alternative to Ipanema, as you can find some space and chill out.
Top notes:
Great for surfing
Clear waters
Clean golden sands
2. Barra da Tijuca Beach
The local's favorite, Barra da Tijuca is a gorgeous stretch of sand away from the crowds. It's away from downtown, but definitely worth seeking out, especially if you love water sports.
Longest beach in Rio de Janeiro
Kite surfers and body boarders love it here
Near a big mall, Barra Mall
3. Ipanema
Despite the fact that it's very popular, you simply have to go here, if only to people watch. There's a reason it is always included on the 'Best Beaches in the World' lists.
It's not just the waves rolling into shores, where you can capture a covetable Instagram shot. It's the freewheeling artists, the games of beach volleyball and the nearby cool neighbourhood that make it so good.
Also check out:
Praia Vermelha
Praia do Secreto (literally the 'secret' beach)
Praia de Abricó
Nightlife
There are so many ways to enjoy a night out in Rio. From the most mouth watering meat dishes to clubs to dance the night away, a great night is guaranteed.
1. Enjoy a night at a casino
There are some beautiful casino establishments in the city, where you can have a great time. Recently opened and very sleek, Rio Poker Club has some great tournaments for fans of the game.
The Grand Casino Iguazu Resort & Spa has:
34 table games
220 slots
A bingo room
Of course, you can play online casino games visiting Virgin Games while back in your own hotel room.
2. Drink caipirinhas at Bar Astor
Located right on Ipanema Beach, you can stroll in with your togs and shorts on for a refresher. It still manages to be a very chic joint by the sea.
3. Join the locals at Bar do Mineiro
If you'd like an authentic vibe for your Rio night out, check out this bar. Try some of the specialty feijoada, and powerful cocktails made with rum.
4. Samba the night away at Club dos Democratricos
This is a superb nightclub in the downtown area. Although house music is just as normal as samba, you'll have a hip-shaking night in this cool joint.
5. Cairoca de Gema
This place is striking as it's located in an old mansion in the party area of Lapa. The food is good too, if you need to refuel after samba.
Culture
Rio has plenty of cultures to shout about, so if you feel like enriching your mind, check out the following.
1. Escola de Artes Visuais
This art school hosts free art exhibitions and is situated in the glorious Parque Lage. You may spot a promising new talent, or simply view vibrant pieces representative of local flavour.
2. Theatro Municipal
The main opera house in the city, this attractive building is located in downtown. A neoclassical wonder, it has gilded mirrors and green onyx staircases.
Take a guided tour or book tickets to one of the performances in this beautiful building.
3. MAM
The modern art museum is set in Flamengo Park, and its form really stands out amid the foliage. See impressive visiting exhibitions of great artists or originals by Bruno Giorgi and Maria Martins.
4. Forte de Copacabana
This former military base houses a brilliant museum that shines a light on Brazil's place on the world stage. It also explores the history of the armed forces in the country, so it's a good one for military buffs.
5. Institute of Research and New Black Memory Cemetery
This is an eye-opening look at the history of slave trade in Rio, until recently kept under wraps. Now it forms a tribute and acts as a burial ground for thousands of enslaved Africans.
Nature
When you need a breather from the beaches or partying, there are several green spaces to enjoy. What level of activity you want is open too, as you can try varying things.
1. Parque Lage
At the foot of Corcovado and surrounded by lush rainforest is this wonderful park. Stroll through glorious gardens and see a beautiful palazzo where opera singer, Gabrielle Bezanoni, once lived.
2. Tijuca National Park
This is one of the largest urban forests on earth, so it is well worth a look. A hike to the 100-foot Cascatinha Waterfall is well worth the view.
No matter how you choose to spend your time in Rio, you will find so much to enjoy. This fascinating city is alive with vibrancy and things to see, so you won't get bored.