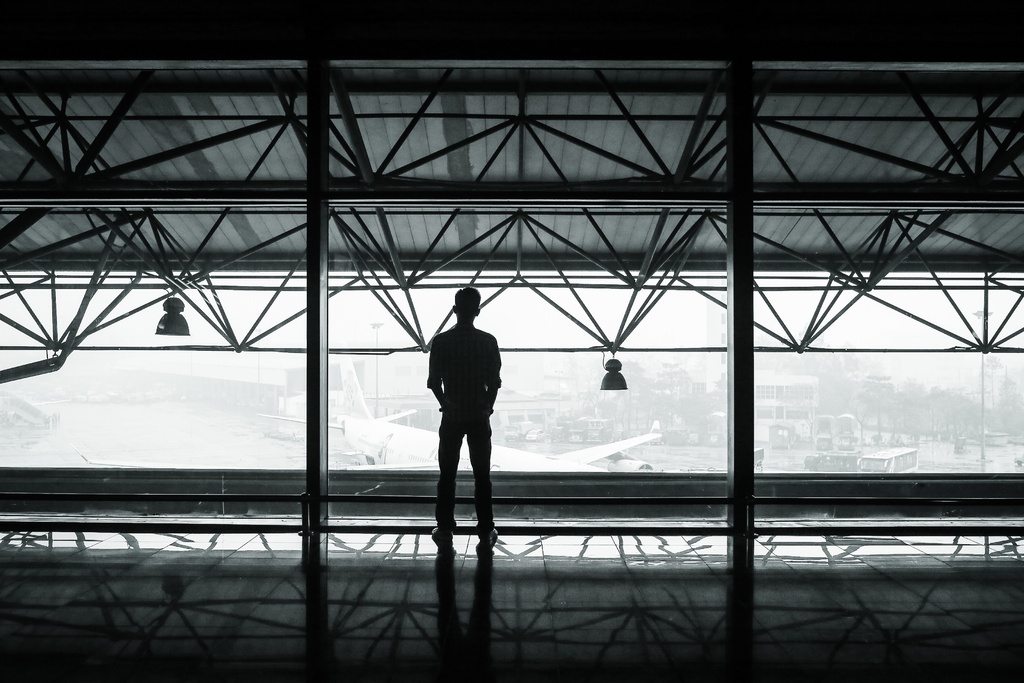 Every aeroplane journey, even those to Rio de Janeiro, begins with an inevitable stop at the airport, where one may have to spend several hours. Usually, when one sets foot in the airport, one is immediately struck by the presence of people lying on the ground in a dishevelled, ungainly manner, as if they had just returned from an evening of revelry with friends.
What is even more astonishing, in a way, is that sometimes the people huddled against the wall or blatantly lying on the ground, intent on sleeping or resting, are middle-aged or even elderly individuals who look completely dishevelled, as if they were real homeless people. Clothes out of place, shoes abandoned at some distance, feet in full view (sometimes even naked), a perplexed look lost in the void, and a general air of unkemptness that seems to emanate from every point of their bodies (or rather, of the shapeless mass they represent at those moments).
Such spectacles can be seen in every airport in the world, even within those belonging to the most developed nations, and offer a truly desolate spectacle of mankind. There are even those who manage to fall asleep while eating their meal on the ground, leaning against the wall and without shoes on their feet, thus losing in a few moments all the dignity they had left.
Defeating discomfort
The lucky ones manage to grab one of the uncomfortable seats that can be found in every airport, and which seem to have been designed with the sole purpose of causing terrible physical suffering to their unfortunate users.
There are even people who manage to fall asleep on such chairs, offering a truly ridiculous and embarrassing spectacle of themselves. Most of the time, whoever happens to be in the airport areas where these chairs have been set up can in fact see people slumbering with their heads projected completely backwards (often even obliquely oriented in a rather sinister way), a grim and angry expression on their faces, capable of remaining intact even in their sleep, and their arms almost always folded or abandoned at their sides.
Those who manage to get hold of a head pillow will certainly enjoy a better fate, but the quality of their rest will be constantly endangered by the unpredictable movements of some child, or by the excessively loud tone of voice of someone who, not knowing what else to do, starts making phone calls to friends and acquaintances, taking the opportunity to inform everyone present of his very personal initiative.
The possible alternatives
All this happens for an extremely simple, almost banal reason. At airports, people waiting to board their flights never know what to do. Yet every airport has duty-free areas and shops specialising in the sale of local products, which always provide a valuable opportunity to immerse oneself one last time in the local culture before returning home for good.
Why not enjoy sampling a selection of local products and then trying to decide which one you like best? At one of Thailand's main airports, Bangkok's Suvarnabhumi, it is possible to find unique items made by the locals, or gastronomic delights to sample while in company (or even alone). The only certainty is that these moments will remain etched in your memory, and will never go away.
The hours at the airport could also be used to explore the wonders of the web that you do not yet know, and that could amuse you to an extent you cannot even imagine. Pick up your smartphone and start browsing apps and websites that you are not yet familiar with, trying to gradually discover what they have to offer. In these moments, you might even discover a new pastime or hobby that you will carry with you for the rest of your life.
The entertainment opportunities offered by online gambling portals are not only extremely addictive, but also allow anyone to spend their time in a more pleasant and relaxed manner, especially when you find yourself in the position of having to wait for hours on end.
With the vast selection of games and online casinos, known in Thailand as คาสิโนออนไลน์, everyone will have a whole range of gaming experiences to choose from, and to indulge in safely. These games are in fact chosen one by one by a careful team of experts, who scrupulously evaluate them on the basis of their reliability and reputation, and are therefore an absolute guarantee.
Instead of wasting time being bored, sometimes even risking your dignity, you should always try to have fun at the airport.